---
What is the internet of things
Part of our Internet of Things briefing
Global | Publication | June 2019
IoT technology is a collection of connected things (such as sensors) able to communicate with one another (or with a central system) without human involvement (whether human-to-human or human-to-computer). The use of the word "Internet" in the term "Internet of Things" connotes connectivity of some kind, although such connectivity need not be via the traditional Internet (for example, it could be via telephony – in particular, the advent of 5G will do much to foster the growth of mobile IoT technology). Connectivity and things are, however, only part of the IoT landscape. IoT technology is therefore best described not in terms of connected things per se, but as an ecosystem made up of various layers.
The diagram below to show the component parts and functions.1 When the devices and other elements described below operate with each other, they together form the Internet of Things.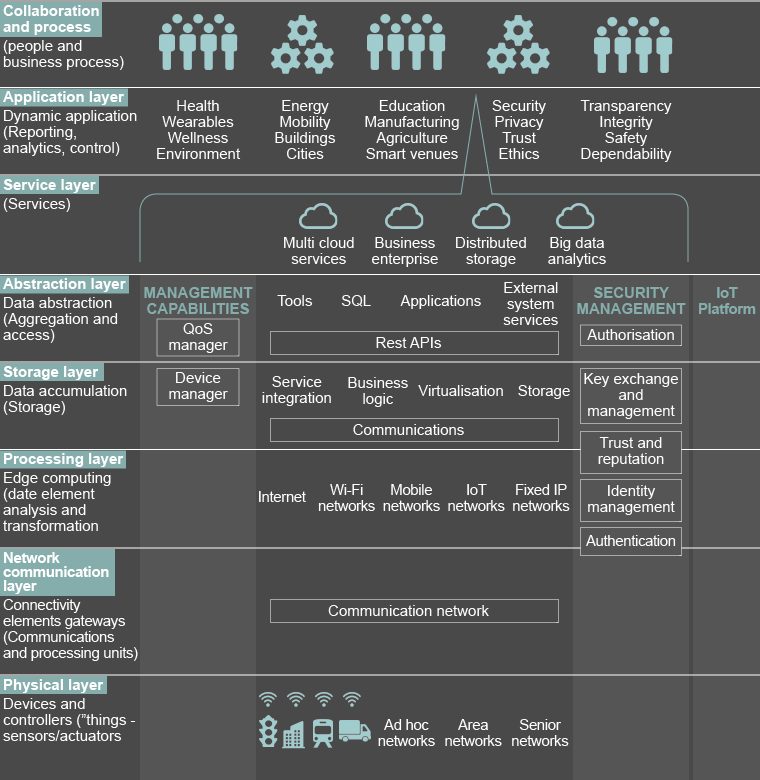 Collaboration and process layer
Functions
Incorporation of people and business processes: action taken
Components
Adding value: the information from the previous layers only provides added value (for example, contextual awareness of surroundings) when an action is undertaken or insight gained
Sub-components or sub-functions
People or processes are involved in order to make improvements
The services provided by the Service Layer, the Application Layer and the Collaboration and Processes Layer are typically provided together in a single IoT cloud platform
Application layer
Functions
Reporting and analysis: reporting, analysis and controlling of data
Components
Front-end interface: with the user
Sub-components or sub-functions
Ensures that users can interact and understand the underlying data
Service layer
Functions
Data interpretation: in order to obtain insights
Components
Processing of data: giving meaning to the data
Sub-components or sub-functions
Provides the service of being able to interpret the data in the Application Layer
Abstraction layer
Functions
Data scaling: data needs to be "scaled" to a higher level
Components
Data rendering: allows data to be "rendered" and stored in a way that enables the development of simpler and performance-enhanced applications
Sub-components or sub-functions
Multiple storage systems may be required for data scaling
Storage layer
Functions
Data accumulation: networks need to move data through the network. Storage is required to achieve this
Components
Data conversion: converts data in motion to data at rest. As a result, data is available to be used by applications
Sub-components or sub-functions
Storage technologies typically used include:
So-called "Not Only SQL" (NoSQL) data-bases (rather than typical relational data-bases)
Processing layer
Functions
Data conversion: converts data flows from the network into information suitable for storage and processing
Processes: the ability to process and act on events based on information collected by the sensor and actuator capabilities in the Physical Layer
Components
Cloud services: hosted in the Internet
Sub-components or sub-functions
Processing can occur within the cloud
Components
Gateways: alternatively processing may occur within so-called gateways connecting the devices and the broader Internet. Gateways may provide transmission security (encryption), protocol interoperability (data flows), data storage and analysis (transforming raw data into something more meaningful) and local event processing (for example, activating an actuator)
Sub-components or sub-functions
Gateways may be provided by:
Internet router
Custom-built device
Mobile phone
Network and communication layer
Functions
Information transmission: communications and connectivity
Components
Devices: between devices and the network
Network: across the network
Connection to processing: between the network and low-level information processing in the Processing Layer
Sub-components or sub-functions
May include the following forms of connectivity:
Radio communication
Short range, low power, including radio-frequency identification (RFID) and near-field communication (NFC)
Medium range, including Wi-Fi
Long range, low power
Long range, higher power, including global system for mobile communications (GSM), 3G, 4G, 5G, long term evolution (LTE), worldwide interoperability for microwave access (WIMAX) and GPS
Physical layer
Functions
The hardware: or "things" – the core of IoT physical infrastructure
Data: captures, processes and transmits data
Components
User interface: through which user interacts
Sub-components or sub-functions
May include the following depending on size constraints:
Buttons
LEDs
Touch screen
Voice recognition
Gesture recognition
Connectivity to user's smart phone
Components
Connectivity: transmission and receipt of data to/from other devices over the cloud
Sub-components or sub-functions
Various network communication options (see Network Communications Layer)
Components
Sensors: a device that converts variations in a physical quantity, such as pressure, into an electrical signal
Sub-components or sub-functions
May include detection of:
Sound or vibration
Electric current or magnetic field
Light
Heat
Position or speed
Density
Weather
Pressure
Proximity
Chemicals
Fluid flow
Components
Actuators: accept a digital signal and produce a physical change
Sub-components or sub-functions
May trigger or change the following:
Motors
Sound
Lights
Heating
Components
Device computing and storage: low electricity-consuming processing and data storage
Sub-components or sub-functions
Functionalities may include, or depend on:
Processing power
Electricity and cooling
User interface support
Memory
Size
---
Footnotes
1
European Commission,
Cross-Cutting Business Models for IoT
, 2017.